I've seen a few of these type of posts on other blogs and i have for a while thought about doing them too, so today is the day i start. From now i will always have a post on my Monday's! :) I'm excited to start.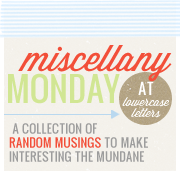 I got this from the lovely blog belonging to
Carissa
. Head on over there if you too wanna join in a do this.
OK..so here we go..!!
THE BAD:
Council :
I have to go council tomorrow morning on my day off and ask them for help, i have too many money worries at the moment and with my father acting the way he is, i need support of some sort. Truth be told I'm scared their either gonna laugh me out of the council, be no help what so ever and tell me i gotta keep doing what I'm doing, or get the social involved. Worse case scenario. :(
Halloween :
I have no money for any sort of Halloween party or festive thing this year, and this fact is a little depressive to me, who really enjoys HALLOWEEN.
Half Term :
I hate that my sisters are on half term this week, which means no school or college and yet I'm still at work and I'm the only person in the house who's waking up at 6am, when it is still pitch black outside and kinda scary to be walking alone, not to mention FREEZINGGGGG!!, i hate English weather.
Inbetweeners :
I don't watch TV too much but one show that i do love to watch has finished and to i do actually miss it!
MISS YOUU!!
THE GOOD:
Payday :
OK this is a good and bad, as I'm super glad to finally get some money in my pocket, but at the same time, a lot of the money has to come out straight away for other bills. :/
Reading :
As a kid i was one of the few teenagers who knew there were amazing books in the school library were kept and i actually enjoyed sitting in the library reading a good book, call me a geek or whatever you desire but reading books is just amazing. The last full book i read was to do with the Twilight collection, so I'm so glad that my sister found an old book i brought from Tesco years ago, and yes I've enjoyed reading it once before but I've gone back and I'm reading it again. I seriously recommend everyone reads "A Perfect Match" by Sinead Moriarty. Thumbs up for this book.
Boyfriend :
I seriously am the luckiest girl alive, i don't care what anyone says, no one can compare to my boyfriend, he is just pure beautiful-ness, i understand some of you must be thinking please shut up with all the soppy love stuff, but lately..i can't complain and recent events have made me realise how amazing he is and how lucky i am to have him in my life.. i watched him while he slept a little today and i have to say i fell in love a little bit more.
The Future :
Not that i know what is going to happen tomorrow let alone the future, but what me and Danny have been talking about lately has really made me smile. I can not get those images out of my head, and i can't wait for it to be a reality instead of a vision! :)
Friends :
I do love my friends, all of them are amazing in their own sort of way and they each bring a little something different into my life, lately i feel like I'm having to choose between certain things, which I'm not too pleased about, but i think these things are minimal and can easily be sorted out.
And so that's my little ramblings for today, haha i enjoyed this post, let me know if you liked it and if your going to start doing it too..! :)