Good night one and all.
I have finally finished my unit 1.1 woop :) so fucking excited..! now moving onto unit 1.2 urgh so fucking not excited! :/ how was your Monday, here in the UK it was a bank holiday meaning an extra long weekend, i love these days, and would have really enjoyed today if, the weather was not shit and i didn't have so much coursework to finish!! URGH so not impressed. now I'm shitting myself, because tomorrow i gotta make a fruit salad at nursery

with the children's help..OMG lord Jesus save me or at least give the help tomorrow. im so

not looking forward to tomorrow i have to be in at 7:45am and everything! BLAH! Moving on though, i have started to think of things to do for my 21st birthday party this august, i might rent a hall out and have a big party, that is if i can afford to pay to feed everyone..they can bring their own drinks..! And also the thing about 11 year old's and 26 year old's partying together might be a turn off, as well as dad hating all the music i will have chosen, anddd none of my friends liking Tokio Hotel music except maybe about 6 of us including me and the sisters! urgh, what to do!?! lol
on an brighter note, Shannon should be coming to stay over this Friday and hopefully she'll stay till Sunday! (if we get our own way) woop woop! ;D i miss her. Watched the whole Tokio DVD today, omg uber amazing, *sighs* aw Tom, 2 hours of pure perfection.. Right, I'm off to go and paint the nails for work tomorrow and then try and sleep, even though i am not tired and I'll probably have nightmares about fruit salads! lol Goodnight. - I'll just let you dribble over him a bit too.


BOOO Tom;;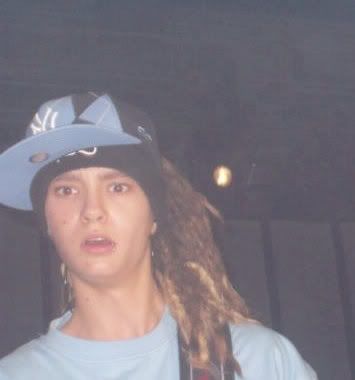 I'd Tap That, Bump That, Grind That, and even Bang That!! ♥
Lights out.
Annie;
jinos