Hey, so i thought i would do an outfit of the day.. and here it is..:
Pretty simple really, Jeans and a tank top with my new wedges.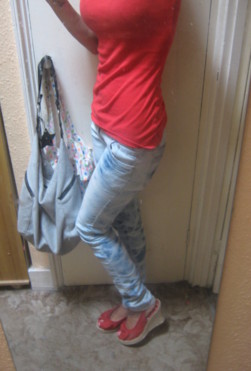 Jeans - Bardo, £10
Tank Top - Primark, £1.50
Red Wedges - Peacocks, £5 on sale
I think there so cute, i have a thing for wedged shoes at the moment.
I also tried some new make up today and should be doing a review on it very soon, but for now here's a close up picture of my eyes.
Mascara & white eye liner, have you ever used white eyeliner?