So Guten abend all..! boa noite..! Good Evening..!
lets see today had consisted of me, MSN-ing, Facebooking, Twittering, Blogging, Ebaying and Cleaning..All while Michael Jackson hits played int he background. I also tried to learn how to do the moonwalk. Yeah that FAILED! :P And i now want to watch "Chicago" badly thanks to Peyton! :) so i changed my profile song today. HEHE i love this new song too :) tell me if you like it?!! I also added a header to the page, but don't worry I'm going to change it again soon, i just wanted to see if it worked and it does..I'm so good with my technical HTML stuff! :) I'm going to change the stuff fin my sidebar soon too..soo i have a lot to do to this blog! :] haaa.
ohh "Beat It - Michael Jackson" just came on..I'm jamming to that now! HAHA i may make a video of me and my sisters dancing to Michael music..and then upload for you all to laugh at. i still have more Zoo videos coming too :P **sorry its taken so long** :) and what else is there..Hm i finally found my dungarees, i will post a pic soon.. and i have the most amazing new shirt, even if it does show my bra a little, its gorgeous. I'm waiting on a new top and a book (very old book) to come from Ebay :D and theres not much else to report.
I got a nice comment the yesterday..it was confusing but good..! They didn't leave their name, whoever it was soo i will never know, but i answered them back on my blog comments! If your reading this..What did i teach you? lol - They left me a little phrase, which i liked..here it is..


life sucked on Monday,
life's great today,
nothing changed,
go figure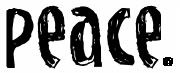 until next time,
Annie;
jinos